This blog contains an attempt to promote my story "Moonbubble" ... followed by an unexpected and amazing sidenote!
My novella "Moonbubble," (about 10,000 words of pure excitement) has been published in Bruce Bethke's
Stupefying Stories
.
It's a milestone for me for a couple of reasons. First, my name is on the cover, which is a first for my print publications.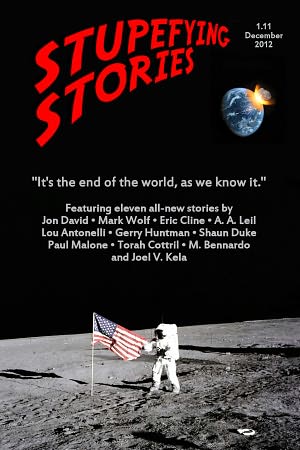 Second milestone: it was artistic growth for me.
I did an inferior early version of this story in which the milieu was the star, and the characters were just afterthoughts. It got several form rejections. Then, I decided to do a redraft.
I am grateful to author
Kristine Kathryn Rusch
, whose blog dispenses excellent advice to writers. One of her points that she has made several times is that rewriting from an existing electronic copy of a story is often a bad idea. Rather,
redraft
, writing a new version from scratch using the old idea. I did so, and the results were (to my mind) spectacular.
Stupefying Stories
' Editor/publisher Bruce Bethke is an interesting character in his own right. He is a science fiction writer who, like William Gibson, managed to put a word (and therefore, his own name in citation) into the dictionaries. Just as Gibson coined "cyberspace" in
Neuromancer
, Bethke coined the term which became the name of the genre, "cyberpunk," in a
story of the same name
. His experience in writing, editing, and production shows in the utterly professional way he (and several associates and friends he names) have managed to roll out a 21st century e-publication.
(If you think an e-publication is
not
difficult, have a look at the roll-call of "Fiction markets that have been declared defunct" that gets refreshed weekly at
duotrope.com
.)
Bethke's introduction to this issue describes the contents as "great tales of the end of the world. From ecological catastrophes to alien invasions; from tyrannical central governments to unfettered cowboy capitalists." (The
unfettered cowboy capitalists
are mine.)
If you have enjoyed my writing in the past, I hope you will consider getting "Moonbubble" in the current issue of
Stupefying Stories
. It is available on Amazon's Kindle stores in various countries:
US -
http://www.amazon.com/dp/B00AFYXAX0
UK -
https://www.amazon.co.uk/dp/B00AFYXAX0
Germany -
https://www.amazon.de/dp/B00AFYXAX0
France -
https://www.amazon.fr/dp/B00AFYXAX0
Spain -
https://www.amazon.es/dp/B00AFYXAX0
Italy -
https://www.amazon.it/dp/B00AFYXAX0
Japan -
http://www.amazon.co.jp/dp/B00AFYXAX0
And on Barnes & Noble's Nook
.
Other e-reader markets (such as Apple's iTunes store) are going to be going live soon as well.
It's a bargain at $1.99 (US edition) and the equivalent price in other editions. (Someday, I'll reprint it alone for direct e-sale, and I'll be charging you $2.99,
minimum
. And that's without the 10 other stories!)
I just got my sample copy (that is, a PDF) this morning, and I'm already smiling over some of my fellow authors' contributions. For instance, "The Relic," by Lou Antonelli, shows the trivial, incidental creation of the title object and the unsubstantiated interpretations heaped on it later. I suspect that famed archaeologist Eric Cline (the
other
Eric Cline, whom I mentioned in a previous post and who kindly commented on this blog earlier) would nod ruefully at the events that unfold.
#
And now, for an unexpected and amazing sidenote.
When I was composing this blog post, I got an idea -- always a dangerous thing for me.
I looked in
The Stephen King Illustrated Companion
and discovered that when King's first professional sale, "The Glass Floor" was published in something called
Startling Mystery Stories
in 1967, his name was not put on the cover, as he was a complete unknown; but
Arthur J. Burks, Seabury Quinn, Sterling S. Cramer, Beverly Haaf,
and
Anna Hunger
were
on the cover. Through the miracle of Google, I discovered that most of those folks were dead and two of them (
Burks
and
Quinn
) were once pulp authors of some note.
Sic
transit gloria mundi
, eh?
I had originally planned some
snarky
comment about how prominent placement on the cover did not guarantee career success; you know, to segue into the fact that my name is now on a magazine cover.
Something
sneering
and
dismissive
.
Then, the second-to-last name I Googled came up with current results.
Beverly Haaf,
who published a horror story in the same issue of the same magazine that inaugurated Stephen King's career,
is still publishing.
Not only is she still publishing, she's serving her community. The title of the May 22, 2012 Phillyburbs.com story says it all: "
Local publisher wins historic preservation award
."
Mrs. Haaf, former fiction writer, age 75, is publishing the
Beverly Bee
, a free community newspaper that serves four small towns in her area.
Snarky
,
sneering
, and
dismissive
all fled back to their junior high school classroom and laid low.
My internet search continued, and yielded contact information. Within a few minutes, I was on the phone with Beverly Haaf, whose laughing voice and self-deprecating manner were a tonic.
"Magazines like
Startling Mystery Stories
were the only ones publishing what I was interested in writing at that time," she told me. She was one of the founders of the Garden State Horror Writers (now called Garden State Speculative Fiction Writers).
She is well-aware that the future publishing behemoth King crossed paths with her, so to speak, in the pages of that now-defunct pulp (cover price for the Fall 1967 issue: 50 cents). But, to my surprise, she told me no one outside her family and friends had ever asked her about it before.
Her contributor's copy of that issue has long since disappeared. "Maybe somebody snatched it as a collector's item," she said with a laugh free of bitterness. (No joke: I found the issue online priced -- because of King's story -- at $600).
The issue's loss complicated her ability to know exactly which of her horror stories appeared in that issue: "Gee what was it," she said. "Perhaps, 'The Perfect Child.' Child in jeopardy, haunted house, that kind of thing. No, wait, that might have been in the Winter 1968 issue ..."
In a long publishing career, being in the same issue with the then-unknown King was far from the most bizarre incident. "My son once found a British anthology that one of my stories had appeared in, without my knowledge! I never got paid, but oh well, it would have just been in pounds anyway!"
One thing's for certain; Stephen King can rest easy knowing that he won't be getting further competition from her on the fiction front. She's strictly a reporter now: "I've given up telling lies, and now I'm trying to stick to the truth!"
I had contacted Beverly Haaf wondering what it had been like to pass, like a ship in the night, the legendary Stephen King. Considering how full a life Beverly Haaf has had, and her continuing productivity, great attitude, and service to her community, perhaps Stephen King had been the lucky one to have once been in proximity to her.
(Addendum: Beverly Haaf contacted me after consulting her records; she determined that the story she published alongside the young Stephen King's "The Glass Ceiling" in
Startling Mystery Stories
was entitled "Aim for Perfection.")